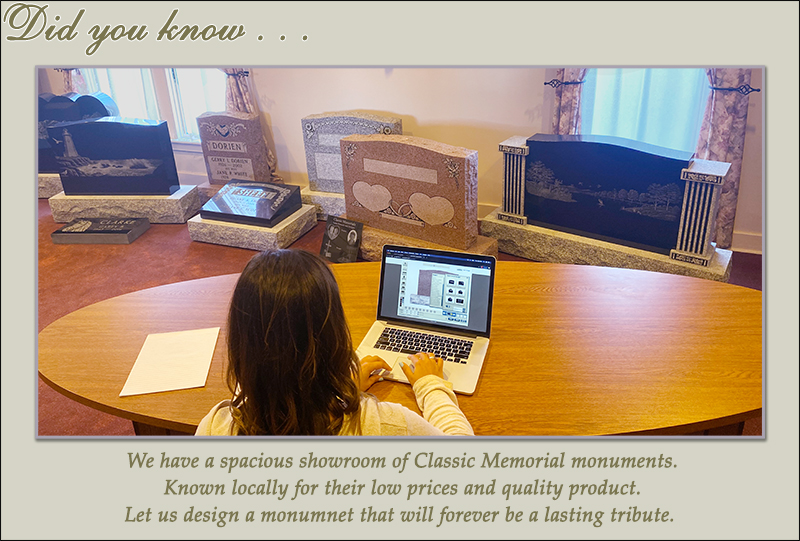 We sell monuments. We can work with you here in Springhill, and offer a full showroom in our Amherst Funeral Home. We can sit with you and draw the monument up while you help us lay it out to best tell your story. Classic Memorials has been around for many years and is well known for being very affordable, and excellent quality.
Give us a call to set up an appointment so we can help you. The monument season for 2020 is not quite over. Take advantage of this year's prices now.
__________________
Our Office is open. Hours from 9:30 AM to 4:30 PM.
Please call to make an appointment.
Please ring the bell at our Main door and wait to be invited in. Please wear a mask while inside the building.
At this time we are only allowing a maximum of 2 people to appointments.
We appreciate your patience, and trust that we will all continue to respect COVID restrictions.
Complete Funeral and Cremation Services
Modern Memorial Tributes
Full Selection of Caskets and Urns
Keepsake and Memorial Jewelry
Only Funeral Home in the Springhill Area


Facility with seating for 300
Reception Centre
Parking Lot

Complimentary

Radio Announcements
After Care Program

Memorial Videos, Cards, Candle
Service Bulletins
Funeral Recording
Webcasting of Service
Preplanning Counsellor
In House Crematorium

Christmas Remembrance Service